Oscars 2019: Red Carpet Hits And Misses Ranked
Published on February 28, 2019. Updated January 29, 2020
The annual Academy Awards is the most anticipated event of the awards show season. The stars of Hollywood flock to the Oscar red carpet wearing the most glamorous couture garments and celebrate the biggest wins in film and entertainment for the year. This year the Oscars red carpet had an array of fashion, some of which we loved and some of which we, admittedly, weren't the biggest fans of. Follow along as we rank all the red carpet hits and misses from the 2019 Oscars:
Want Celebrity Fashion News delivered straight to your inbox? Sign up for our Exclusive Fame10 Celebrity Fashion Email!
42. Miss: Irina Shayk
Irina Shayk is likely one of the most beautiful women in the world, which is why we had high expectations for her red carpet look when she attended the Academy Awards with her Oscar-nominated boyfriend, Bradley Cooper. This black dress was quite underwhelming in all honesty and the gold embellishment along the waistline felt awkwardly placed.
41. Hit: Marina de Tavira
Marina de Tavira looked radiant in red at the 2019 Oscars this year where she stepped out wearing a dazzling crimson dress with soft ruffles draping all the way down the skirt. The shape of this dress worked fabulously to show off her tiny waist and the color flattered her brunette tresses beautifully.
40. Miss: Zooey Deschanel
Zooey Deschanel stepped out at the 2019 Oscars wearing a red dress that we deemed much better suited for a summer afternoon than the red carpet. The halter neckline felt significantly too causal for the formal event, which is why we were left disappointed.
39. Hit: Elaine Welteroth
Oscars red carpet host Elaine Welteroth wore a dreamy teal dress that caught our eye at the 2019 Oscars this year! We absolutely love the unique texture of this dress that looked like a cross between fringe and feathers which was truly magical.
38. Miss: SZA
SZA stepped out at this year's Oscar Awards wearing an interesting ivory dress that had quite a lot going on. The dress itself isn't our favorite of the night, but it's also not overly awful, so what truly disappointed us about this look was her messy beehive hairstyle. It made everything feel undone and sloppy. If she had pulled her hair into a polished hairstyle to allow the dress to shine, her look could have had a lot more potential.
37. Hit: Queen Latifah
Queen Latifah nailed her red carpet look this year at the Oscars by wearing this chic black dress with long sleeves and a high neckline. We absolutely love the texture of this dress which seems to be leather and sequin patchwork. It was unique and totally swoon-worthy!
36. Miss: Leslie Bibb
We were quite let down by this nude look worn by Leslie Bibb at the 2019 Oscars this year. The color did nothing for her skin tone and totally drowned out her fair complexion. We would have much preferred Bibb in a rich jewel tone to really light up her face.
35. Hit: Yalitza Aparicio
Roma star Yalitza Aparicio opted for an elegant mint green Rodarte dress that made for a true Princess moment on the red carpet this year at the Oscars. The tulle number featured just enough texture with the metallic embellishment to catch the eye and the asymmetrical neckline added something unexpected.
34. Miss: Melissa McCarthy
Melissa McCarthy stepped out at the 2019 Oscar awards opting for a pantsuit rather than a dress this year. While we typically love when women shake things up with a pantsuit every once in a while, we felt that the cape that was incorporated into this ensemble was a little unnecessary and detracted from the look.
33. Hit: Marie Kondo
Everyone's favorite tidying queen walked the red carpet this year at the Oscars wearing the most stunning pink gown! The petite star knew how to strategically dress her figure by opting for a delicate, body-skimming dress. We absolutely love the unique floral embellishment dotted throughout which really elevated her look and brought the glam factor.
32. Miss: Lisa Bonet
Lisa Bonet stepped out at the 2019 Oscar awards this year wearing an interesting purple and pink dress that felt a little chaotic. From the shiny pink texture to the high neckline, to the mesh overlay, this look definitely left us puzzled.
31. Hit: Tessa Thompson
Tessa Thompson honored the recently passed Chanel figurehead Karl Lagerfeld by wearing one of his swoon-worthy runway designs to the Oscars this year. We absolutely love the simplistic elegance of this look. The black and gold color scheme really made the ruffles feel mature and sophisticated.
30. Miss: Awkwafina
Crazy Rich Asians actress Awkwafina stepped out wearing a sparkling suit for this year's Academy Awards that we have to admit we didn't love. The lavender pantsuit by DSquared2 seemed to wrinkle and buckle in all the wrong places proving that it wasn't properly tailored.
29. Hit: Helen Mirren
Helen Mirren absolutely dazzled at the 2019 Oscars wearing this multi-tonal pink number by the Italian brand, Schiaparelli. We love that her look was modest with the long sleeves and draping tulle, but also brought a wow factor since it's such a vibrant color.
28. Miss: Lucy Boynton
As much as we wanted to love this rich purple number worn by Lucy Boynton, there were just a few details that swayed us otherwise. What mostly turned us off were the unnecessary bows along the shoulders and waistline. This look would have been so elegant without these distracting details!
27. Hit: Emilia Clarke
Emilia Clarke dazzled on the Oscars red carpet where she stepped out wearing this glittering lilac number designed by Balmain. We absolutely love the sculptural yet soft feel of this dress. From the glitter to the pleats to the dramatic neckline, this look was the epitome of red carpet glamour.
26. Miss: Laura Marano
We have to admit we weren't the biggest fans of this contrast marigold and peach look worn by Laura Marano at the 2019 Oscars. The colors seemed to clash, especially with the teal clutch, and the oversized bow on the back of the dress was quite distracting.
25. Hit: Laura Harrier
Laura Harrier looked elegant as ever on the Oscars red carpet in this glitzy powder blue dress by Louis Vuitton. We absolutely love this pastel color against her skin tone!
24. Miss: Glenn Close
Glenn Close's look shocked everyone when it was revealed that the golden dress weighed 42 pounds. We definitely give Close kudos for walking around in a dress so heavy, but we can't say it was the most flattering. The gold color seemed to wash her out and the entire look seemed to drown her in fabric.
23. Hit: Jennifer Hudson
Jennifer Hudson was an absolute bombshell at this year's Oscars wearing this fire engine red dress by Elie Saab. We absolutely love the ruffle detail trailing diagonally across the asymmetrical number which really brought the red carpet glamour.
22. Miss: Linda Cardellini
We were quite baffled by this magenta ruffled look worn by Linda Cardellini on the Oscar red carpet. The oversized and overly foofy dress totally drowned her and felt quite over the top. From the ruffles to the bow to the color, we just couldn't get on board with this look.
21. Hit: Amy Adams
This body-hugging Versace number worn by Amy Adams on the 2019 Oscar red carpet might be our favorite look we've ever seen her in! It was glitzy, but still modest, which seems to ring true to Adams' personal style.
20. Miss: Danai Gurira
Danai Gurira is a red carpet all-star, which is why we were quite disappointed with the look she wore to the 2019 Oscars this year. The shade of gold was a little too stark to be pleasing to the eye and we would have much-preferred something a little softer in a shade of champagne.
19. Hit: Kiki Layne
Kiki Layne was feminine, sophisticated and trend-forward at the 2019 Oscars this year. We absolutely love this powder pink dress designed by Atelier Versace. It did feature an oversized bow detail along the back, but in this case, it was subtle enough to remain elegant and not detract from the dress itself.
18. Miss: Sarah Paulson
Sarah Paulson donned a bright pink oversized gown at the 2019 Academy Awards that definitely puzzled us. We love the color and the voluminous skirt of this dress, but the strange shape of the top and the unflattering cutouts at the waist weren't the best.
17. Hit: Ashley Graham
Ashley Graham was sultry and sophisticated at the 2019 Oscars where she rocked a mermaid-style little black dress that was super flattering. It hugged her curves in all the right places and gave her a serious hourglass figure.
16. Miss: Gemma Chan
Crazy Rich Asians star Gemma Chan has proved she has a strong sense of style based on her previous red carpet looks this year, which is why we were disappointed with this unshapely pink number. The color looked fabulous on the skin tone, but this dress simply did nothing for her figure and felt like it drowned her.
15. Hit: Constance Wu
On the other hand, Crazy Rich Asians star Constance Wu absolutely nailed her red carpet look in this dainty marigold dress designed by Versace. The custom dress featured a floaty, whimsical skirt and a stunning asymmetrical neckline that we were huge fans of.
14. Miss: Laura Dern
Laura Dern wore a deep brown dress that was quite underwhelming at this year's Academy Awards. The color did nothing for her complexion and the shape did nothing for her figure. Luckily, we did love the diamond necklace she topped the look with which added some much-needed sparkle.
13. Hit: Brie Larson
Brie Larson nailed the red carpet glitz with this metallic halter number that fit her like a glove. The thigh-high leg slit added the perfect flash of leg without being over the top and the high-neckline balanced it out in terms of modesty.
12. Miss: Rachel Weisz
Rachel Weisz has not had a winning season for red carpet fashion in 2019, and unfortunately, the 2019 Oscars were no exception. The actress stepped out wearing a cherry red dress that featured a strange latex-like detail along the bodice that we just couldn't get on board with.
11. Hit: Amandla Stenberg
The beautiful Amandla Stenberg stunned at the 2019 Oscars wearing this silver and nude fringe dress designed by Miu Miu. The unique chainlink detailing of this look really made it a standout fashion moment of the evening.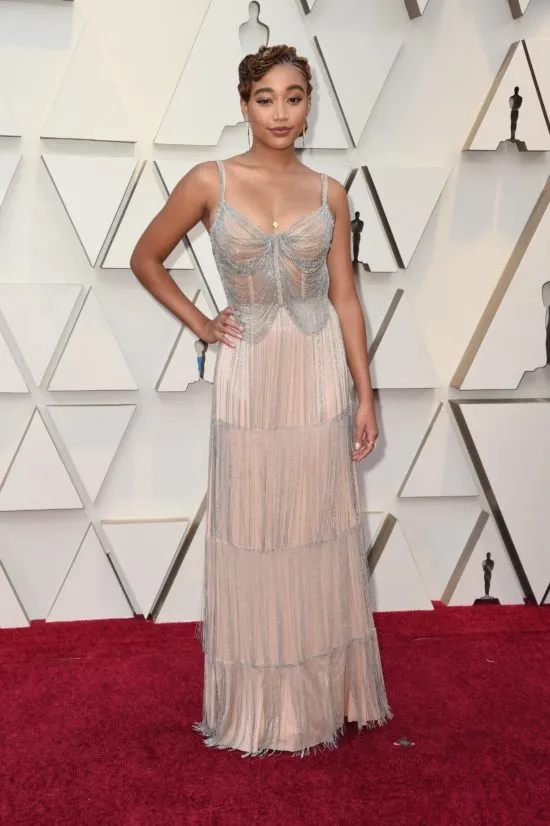 Source: Press Association
10. Miss: Charlize Theron
We have high expectations for Charlize Theron when she hits the red carpet, but we, unfortunately, weren't thrilled with her choice of dress this year for the Oscars. The look didn't feel properly tailored to her body, especially with the cuffed sleeves, and it wasn't the most flattering option for her statuesque figure.
9. Hit: Octavia Spencer
Octavia Spencer blew us away in this deep navy dress designed by Christian Siriano. We absolutely love how this shade of blue looks on Spencer and the draped off-the-shoulder detailing was totally glamorous.
8. Miss: Olivia Colman
We were quite confused by this emerald green dress worn by Olivia Colman at the 2019 Academy Awards this year. The look featured a strange embellished shawl that functioned as a bow and sleeves. It was unlike anything we'd ever seen before, but we can't say we were fans.
7. Hit: Lady Gaga
Lady Gaga looked absolutely striking on the 2019 Oscar red carpet wearing this sculptural black Alexander McQueen dress inspired by Breakfast at Tiffany's. She even topped the look with a dazzling Tiffany & Co. necklace last worn by Hepburn when promoting her iconic film back in 1961.
6. Miss: Maya Rudolph
Maya Rudolph left us stunned with her red carpet look for the 2019 Oscars, but not in a good way. This look had everything from a cape to ruffles to a bold color and even a print. It simply felt like too much.
5. Hit: Jennifer Lopez
Even though Jennifer Lopez wasn't attending the Academy Awards on behalf of a nomination, that didn't stop her from dressing to the nines. We absolutely loved this swoon-worthy mirrored dress worn by Lopez. It fit her like a glove, featured a little glitz and showed off her figure without showing any skin. Absolutely flawless!
4. Miss: Emma Stone
Emma Stone wore quite a strange dress for this year's Oscar red carpet. The look was designed by Louis Vuitton and featured a bizarre checkered chocolate and gold print. Many were comparing her look to a waffle, which we can totally see!
3. Hit: Michelle Yeoh
Crazy Rich Asians star Michelle Yeoh was undeniably one of the best-dressed women of the evening at the 2019 Oscars. She stepped out wearing a blush and silver Elie Saab number that featured the most beautiful foil embellishment. It was unique, whimsical and totally glamorous.
2. Miss: Kacey Musgraves
We were totally shocked by this baby pink look worn by Kacey Musgraves at the 2019 Oscars this year. It was the definition of foofy and many fans tuning in even compared her look to a loofah! As much as we love and support Kacey Musgraves, this dress simply wasn't the most flattering.
1. Hit: Regina King
Of all the looks at the 2019 Academy Awards, our favorite had to be this white pleated dress worn by Regina King. The look was classy and elegant, but still a little sultry with the thigh-high slit. Her look proved that sometimes simplicity is key when it comes to red carpet fashion.
Want Celebrity Fashion News delivered straight to your inbox? Sign up for our Exclusive Fame10 Celebrity Fashion Email!