Things You Might Not Know About 'Everybody Loves Raymond'
Published on March 15, 2017. Updated May 7, 2020
Everybody Loves Raymond was a fan favorite CBS sitcom during its nine season run from September, 1996 to May, 2005. Thanks to star Ray Romano and creator/producer Philip Rosenthal, fans were introduced to a sitcom featuring an extremely relatable family which drove the show's success and kept fans tuning in week after week and season after season. It has now been over 10 years since fans said goodbye to the Barone family but luckily we can rewatch all of the best episodes through many afternoon re-runs. Take a look back on the hilarious series with 10 things you didn't know about the show and cast.
10. Real Life Inspiration
Thanks to the lives and experiences of Ray Romano and creator Philip Rosenthal, many of the series' characters and situations were inspired by the two men's real lives with their families. Ray Romano's real life brother is actually a police officer, much like his on-screen brother Robert, and Robert's habit of touching his food to his chin was inspired by Romano's real brother who had "the same quirky mannerism." Meanwhile Rosenthal's wife once spoke out about seeing her real life arguments with Rosenthal end up in scripts. Monica Horan portrayed Amy on the series and told People, "I'm hearing lines from conversations I had with my husband. Ray was telling Debra to take medication, and she was telling him she need a hug. I was like, 'Whoa.' I was crying, then laughing, then crying. It was surreal." Rosenthal himself added, "Ninety percent of everything you hear on the show has been said to me or Ray Romano or one of the writers."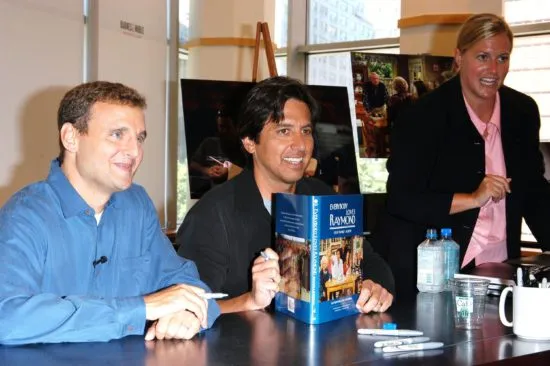 9. Casting
The cast of Everybody Loves Raymond ended up as one of the most believable TV families in recent history, but it wasn't so easy putting everyone together. Peter Boyle, who expertly portrayed Frank Barone, revealed in his audition he was angry and sarcastic (much like his character) and producers loved it, but what they didn't know was that he wasn't acting. "I was out here and my kids were visiting from back East because I live in Manhattan and my girls go to school there. But we couldn't get on the lot. Then we couldn't get a parking space. Then when we finally got all of that worked out, we went to where the office was and they said, no, the auditions are being held in another place. So when I walked in, Ray and Phil were there and I was enraged." Meanwhile casting Patricia Heaton wasn't any easy feat either. At first CBS wanted Jane Sibbet, who was known for playing Carol in Friends, in the role of Debra, but Rosenthal and Romano wanted Heaton. "They were suggesting someone to play Raymond's wife that I just couldn't live with, and so I was quitting over that," Rosenthal said of the ultimatum he gave CBS if they hired Sibbet. Romano however insists Heaton got the part because "she was the only one willing to kiss me on the lips in the auditions."
8. Creating the Show
Everybody Loves Raymond got its beginning after Romano performed his stand up comedy on David Letterman. "I was doing stand-up for about 12 years. And then I did a David Letterman spot. And a week later, the Letterman producer, Rob Burnett, called me and said we're interested in trying to develop a show just based on what they saw, my stand-up, which was talking about my family, and we said 'Fine,'" Ramona revealed. Letterman ended up being one of the show's producers but it was only a title, "He just watches from afar. He'll watch the show now and then…But he trusts us. He let us go," Romano explained.
7. The Title
As it turns out, Romano wasn't a huge fan of the shows title because it praised only his character, but once it came about, they couldn't get rid of it. "It invites hatred," he said. "It came about from a sarcastic comment my brother made, who is a police officer. And he said, 'look what I do for a living, and look at Raymond, yeah, everybody loves Raymond.' So we used it as a working title, and it just grew on CBS, and we couldn't get rid of it."
6. Award-Winning
Through nine seasons of Everybody Loves Raymond, the series was nominated for 69 Primetime Emmy Awards and won 15 of them, 10 of which were for acting, and was also nominated for 21 Screen Actors Guild Awards but only came away with one win. Meanwhile Peter Boyle was the only regular cast member to be nominated for an Emmy during the show's run, but never won. His on-screen wife Doris Roberts won four times, Brad Garret won thee times, Patricia Heaton won twice and Ray Romano won once!
5. Passing of the Stars
Since the series has come to an end, the cast has lost some of their beloved members. Only one year after the show came to an end, beloved actor Peter Boyle passed away at the age of 71 after suffering multiple myeloma and heart disease. Nine years later, tragedy struck again when Sawyer Sweeten, who portrayed twin Geoffrey Barone, committed suicide at the age of 19 while at a family member's home on April 23, 2015. The following year on April 17, 2016, iconic actress Doris Roberts passed away in her sleep following a stroke. After each death, much of the cast came together to praise their late co-stars and mourn the loss, proving they were just as much an off-screen family as an off-screen one.
4. Remakes
The series was such a huge hit that in 2009, four years after the show came to an end in North America, Rosenthal actually traveled to Russia to help them adapt their own version. Entitled The Voronins, the series became Russia's number one comedy and after recreating all 210 American episodes, went on to make their own originals. It went on to be adapted in Poland (Everybody Loves Roman), Egypt (Close Doors), the Netherlands (Everybody is Crazy About Jack), Israel (You Can't Choose Your Family), and the Czech Republic (Everybody Loves Rudy). In the U.K. only a pilot was shot for a remake called The Smiths.
3. Making Money
If TV fans were impressed with the Friends stars or The Big Bang Theory stars making $1 million per episode, Ray Romano was doing it well before them. For the eighth and ninth season of Everybody Loves Raymond Ramono was the highest paid actor on TV by making $1.8 million per episode. He just beat out Kelsey Grammer who was making $1.6 million per episode for Frasier at the time.
2. The Kids
The Barone family definitely seemed like a real family and that was helped because the three children were actually siblings. Ally, Geoffrey and Michael Barone were portrayed by siblings Madylin Sweeten and Sawyer and Sullivan Sweeten. At first, Geoffrey and Michael were actually called Matthew and Gregory and were named after Ramon's real life twin sons. He eventually asked for the names to be changed because it was far too close to his real life and they even got new actors to play the part, which landed Sawyer and Sullivan the roles.
1. Ending the Series
After nine seasons, much to the dismay of fans, Everybody Loves Raymond came to an end, and it was for one very simple reason. "We ran out of ideas," Rosenthal told The A.V. Club. "If you worked for me, I would say to you, 'Go home, get in a fight with your wife, and come back in and tell me about it.' And then we'd have a show. But after nine years, if we kept that up, our wives would leave us. And in California, that's half. So we made sure that we got out before that happened," he joked. Filming the finale wasn't so easy however as both Patricia Heaton and Doris Roberts fell sick and couldn't speak, delaying the filming twice.