15 Shocking Revelations From Bachelorette Andi Dorfman's 'Single State Of Mind'
Published on January 16, 2018.
In Andi Dorfman's second book, Single State of Mind, she's living in New York City and living the single girl life – just like Carrie Bradshaw. She's been doing a lot of dating since splitting from former fiancé Josh Murray, with some of it being good, bad and totally ugly! While we definitely recommend that everyone reads this book, we're still going to count down the 15 most shocking revelations from Single State of Mind:
15. Her Date with a Cokehead
While living in New York, Andi's had a bunch of bad dates, including one with a guy who showed up drunk and high on cocaine! She only noticed that he was high on coke when she saw "remnants of white powder around" his nostrils. As if that wasn't bad enough, he proceeded to ignore her for almost the entire duration of their date and instead flirted with one of the bartenders who he had recently dated. "A smirk had made its way to his face, right below his coked-out nostrils. Suspicious, I turn around. The bartender is on her phone, too, the light of the screen spotlighting the grin across her face. I look back at him and back at her. Back at him, back at her. Holy sh-t, now they're not just flirting in front of me, they're texting in front of me! He's literally texting on our date…with the f—king bartender!" Instead of sticking around, she told him that she wasn't feeling well and left and thanked him for "the worst three glasses of wine of [her] life."
14. Threesome
After attending the Kentucky Derby, she was offered a ride home on a private jet by a couple she had met at the event – which she accepted – only to find out that they wanted to have a threesome with her! She was mortified and wanted to get off the plane, but it was already taking off. She texted a friend about it who then googled the couple and found out that the woman was actually a madam who "sells girls as sex slaves to rich millionaires" and who "got busted a few years ago and changed her name." Hilariously, she finally understood why her mother told her never to take rides from strangers!
13. International Booty Call
The former Bachelorette met a Canadian rugby player on Twitter and after getting to know him via text and Facebook, she went to Canada to meet him for her "first international booty call." However, she ended up missing her flight, which really irritated him. He ended up being sulky and cold with her when she arrived, but after a couple of glasses of wine, he warmed up momentarily and they ended up having what she called the "best sex of [her] life." It didn't end up improving the weekend, however. The only fun they had was when they were drinking or eating pot cookies. When she finally headed back to New York City, she couldn't help but wonder how she didn't realize what a "meathead" the guy was. "What has happened to my knack for judging the character of a man?" she wrote. "I thought my little mishap of getting engaged to a man I only knew for eight weeks was just a fluke, but now I'm starting to wonder if maybe all this time, these douchebags coming into my life are my own fault. Why am I drawn to such losers?"
12. Avoiding Nick Viall at New York Fashion Week
When Dorman attended New York Fashion Week, she was invited to go backstage and meet the designers behind Badgley Mischka, but she bailed once she saw her ex, Nick Viall, backstage as well. "I panic. I can't see him. I need to avoid him immediately. Not because I dislike him. I mean, yes, this guy told the entire world on live television that we had sex, but I've been through so much since then, including the ending of my engagement, that I don't care about that anymore. I'm really avoiding him because I don't want to be seen with him," she wrote.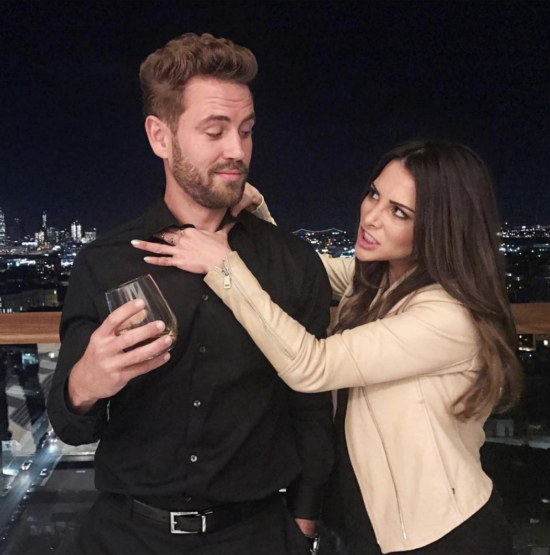 11. Is She a Lesbian?
Because Andi was single in her late 20s, her mom's friends think that she might be a lesbian. When her mother asks her point blank if she's a lesbian, Andi, of course, says that she isn't, but it gets her thinking about how Southern women are expected at her age to have settled down. She wrote, "Being a single woman past a certain age has always been the equivalent of a scarlet letter south of the Mason-Dixie Line. And now that I'm the one wearing it, I find it offensive, sexist, and stupid. The way I see it, I'm twenty-eight, and I've been in relationships for the better part of my last decade, including an engagement that ended nastily. Wouldn't now be a logical time to be single? To be on my own and figure out life without the mess of a man?" This is the reason that she doesn't like coming home. Before it was the memories of her breakup with Josh Murray that kept her away, but now it's the judgment she feels for being single.
10. Bachelor Nation Wedding Drama
She had never met Carly Waddell and Evan Bass when she was invited to their wedding, and she attended it because it was a free trip to California and she could see her Bachelor Nation friends. According to the former Bachelorette, cocktail hour at the wedding turned into a reality show. "I watch in horror as they take shots off each other's chest, shotgun beers, and make out with one another. It's as if they've forgotten they are wearing suits and gowns and are at someone's wedding, a wedding that hasn't even started." One of the most mortifying moments at the wedding, however, was when Dorfman realized that she was the only person at her table without a date and the spot that would have been for her plus one had been left empty – for the world to see since the event is being filmed. The wedding leaft her feeling vulnerable and sad, and when she went to the washroom to hide in a stall and cry, she could hear two guests talking about her and the empty seat beside her, taking pity on her!
9. Fling with a Yankee
One of Andi's friends set her up with a baseball player for the New York Yankees and while the two became inseparable, she ended up becoming disenchanted with him when she realized that he was too lazy to furnish his house (even though he had the money to do it). "I'm so turned off that I've been seeing, and just had sex with, a grown man who has money but who can't bother to even pay someone to furnish his house. It's one thing if the guy doesn't have any taste in decorating. In fact, I actually find that kind of endearing and it allows me the chance to decorate on someone else's dime. But seeing his half-empty apartment reveals a laziness about him that has me not even wanting to wake up but instead calling an Uber to take me and my pounding headache home," she wrote. Things finally came to an end between them after they have a ridiculous fight over transportation – Andi wanted him to pick her up at the bar she was at and he wanted to send a car for her. After the relationship ended, she had no regrets but realized that there was only one thing that she actually liked about him. "He is what he is, and he served his purpose until he could no longer serve. And that's what happens when the only thing you really enjoy about a man is his penis," she wrote.
8. Falling for a Seattle Baseball Player
Following her split from the Yankee, she moved on to a baseball player from Seattle, who she met on a dating app for celebrities. She revealed that she went to visit him for 10 days and ended up really falling for him, but her past with the Yankee ended up really bothering him. Although he told her that he's in love with her, he broke up with her soon after she returned back to New York, claiming that he needed to be single. She later found out – after she sent him a humiliating email about how much she wanted to give the relationship another shot – that he really broke up with her because he met someone else, who was now living with him.
7. Seeing Josh on Bachelor in Paradise
The former Bachelorette's book was a hot topic on Bachelor in Paradise when her ex Josh Murray was on the show, and even though she didn't watch the show, she was told about it, and she discussed his behavior on the show in her book, as well as his claims that what she wrote about him in It's Not Okay isn't true. "Week after week on the show, the book kept coming up in conversations. Week after week, Number Twenty-Six would dismiss it as fictional and ludicrous or say that he hasn't even read it. (Which makes no sense, because if he hadn't read it, how would he know if it was fictional or not?) Nonetheless, his controlling, condescending behavior toward his new girl and the other contestants spoke louder than his denials over my book did," she wrote.
6. Bachelor Nation's Disposable World
Dorfman was a little surprised that none of the Bachelor Nation producers let her know that her ex was going on a Bachelor spin-off. "You'd think having been a lead and having developed close relationships with the producers, there would be some show of courtesy when your ex-fiancé goes on the spin-off of your own show," she wrote. "But no. Not a word. I guess I shouldn't be surprised. The truth is, when it comes to everyone associated with the show, every contestant is disposable. The day your season is over, the producers are on to the next."
5. Finding out Josh and Amanda Were Engaged
After Josh proposed to Amanda on a beach in Mexico, Andi found out about it, and she wasn't exactly hurt by it. Instead, she felt indifferent. She wrote, "But, honestly, when it comes down to it, I don't really care. I'm not happy for him, I'm not mad at him, I'm simply…indifferent. The truth is, I look at him and all that he's done since the show and since we broke up and I don't even see the man I was engaged to. I see a guy who is just, well…kind of a loser. Honestly, if I hadn't had genuine, honest feelings for him, I'd probably be mortified that he will forever be a stain on my romantic résumé. At the end of the day, when it comes down to it, my ex, like many other men out there, was a controlling a—hole."
4. Being Mistaken for a Hooker
One night, after a day of heavy drinking, she found herself in a hotel in the midst of a steamy make out session with a guy she had met earlier that day. Everything was moving along smoothly, until he asked her what her rate was! Initially, she thought that he was talking about what her rate for appearances was, but then she looked around the hotel room and realized that it had been set up for sex! "The door to the large bathroom was ajar, and I could see the marbled countertops and a Jacuzzi that – oh, my God! The Jacuzzi was filled with bath bubbles and had flowers floating on the top. There was a candle lit. I glanced back on the bedroom, where for the first time I noticed a table in the corner with an opened bottle of champagne in a silver tub. The entire suite had been set up…for sex. Oh, my God! Does he think I'm a hooker? Oh, my f—king God – wait, what part of me resembled a hooker? I got it. I was in his hotel room, but we met at a sports bar. Who picks up hookers at a sports bar? Not to mention the fact that I was in jeans. What kind of hooker wears jeans?"
3. Her First One Night Stand
At her friend Nicky's wedding in Kansas City, she had her first one night stand with a guy called Hot Rob. It was some of the most "sensual and passionate sex" she'd ever had, but it almost caused her to miss her 5:45 a.m. flight back to New York City. She was in such a rush that she couldn't make it back to her hotel to get her suitcase! But, luckily, Hot Rob was her knight in shining armor and he took care of that for her.
2. Tension Between Nick Viall and Kaitlyn Bristowe
Dorfman detailed what it was like to appear on Jimmy Kimmel Live with Nick Viall and Kaitlyn Bristowe. While there was no drama between her and Viall, there was obviously tension between him Bristowe. "There seems to be nothing but disdain between them. As we take our seats on the couch, Kaitlyn next to Jimmy and me between her and Number Twenty-Five, the tension can be felt by everyone, including me," she wrote. "There I am, sitting between two fires, and I can't help but feel responsible for setting them aflame. Had I not sent Number Twenty-Five home when I did, then maybe he wouldn't have gone on Kaitlyn's season, and maybe they'd just be acquaintances instead of whatever awkwardness they are now."
1. Freezing Her Eggs
After learning that the baseball player from Seattle had a new girlfriend and she's the reason things are over, the former reality TV star had the terrifying realization that she could never rely on anyone else except herself, which is what pushed her into deciding to freeze her eggs. "When it comes down to it, there is only one person you can truly ever trust, and it's not a man, it's not a friend, it's not your family. It's you. And as I lie in bed I am faced with the rude awakening that I might be alone forever." Even though she comes to this realization, she still ends the book on a positive note, letting the reader know that, in spite of everything, she still believes in love.