The world of corporate cosmetics revolves around the little town of Genoa City, and it also happens to be a place where scandals occur daily, as well as adventure, and of course, romance. From Villy to Shick, Nikki and the Moustache and more, The Young and the Restless (Y&R) knows how to tell a good love story. As such, below are some Y&R couples with the best chemistry.
12. Billy and Victoria
When actor Billy Miller played Billy Abbott, he and Victoria Newman were a couple that were on fire! Opposites always attract in the land of daytime drama and the charming screw up was the perfect partner for the proper and professional billion-dollar princess. The couple has been plagued with hardship, family woes, deaths, and gambling addictions, but they've always had a spark that brought them back together.
11. Neil and Dru
When Dru tumbled to her death off a cliff in 2007, Y&R fans were devastated. Not only was she a fan favorite, but she and Neil made the ultimate super couple at the time. In fact, Winters was never truly the same after Dru died, and was never able to find a relationship with that intense chemistry.
10. Adam and Chelsea
Two con artists finding love and happiness equals out to the perfect love story. While Adam is currently exploring his darker side, there once was a time when he started to change his attitude, and a lot of that had to do with Chelsea Lawson. Even though Adam has been recast since their original relationship, these two still have a spark between them that can't be explained.
9. Adam and Sharon
Speaking off, Adam, regardless of which actor is playing him, is still able to spark something in Sharon that no other man has been able to. Is it his dark side that is so alluring? Perhaps the vulnerability he allows her to see? Or the fact that she knows he is bad for her? Regardless, while they don't make a good couple together, they've always had a huge amount of chemistry between them.
8. Brad and Ashley
Digging into the Y&R history vault, comes a couple from the early 2000s that turned up the heat. Brad was Ashley's ex-brother-in-law, but that didn't stop her from diving right into a relationship with him. He was good-looking, charming, a beast in the boardroom, and the two clicked on a business and personal level. Not to mention the chemistry that had between them in the bedroom.
7. Ryan and Vicky
Maybe it was the fact that daddy Moustache didn't approve, but Ryan and Vicky made a great Y&R super couple, and had a fantastic spark from the get-go. There's something about dating the boss' daughter that can be exhilarating, and maybe that's what the true chemistry between this couple was all about.
6. Kyle and Summer
Most Y&R fans love seeing Kola together, and they truly make an amazing couple; however, there's no denying that Summer and Kyle have a ton of chemistry together. Sadly, that's all that truly lies between them, but a spark like that can be hard to ignore, which is probably the reason their paths continue to cross despite trying to stay away from each other.
5. Billy and Phyllis
Speaking of, Philly didn't have the best of relationships, and much of why they got together – and stayed together – was because of the chemistry they had in the bedroom. While no fan really wanted to see Phyllis cheat on Jack, watching Billy and Red's attraction felt like witnessing a magnet being drawn to a certain metal. It was simply unstoppable.
4. Paul and Christine
The longevity of Paul and Christine's relationship can be attributed to many factors. One is the fact that they both have such upstanding morals and values; they also both have quirky senses of humor; and then there's that chemistry. Y&R fans don't get to see much of Paul and Christine together these days, but when they are on the show, they light up everyone's television sets.
3. Nick and Phyllis
There's a certain magic between Nick and Phyllis (when played by actress Michelle Stafford) that can not only be seen on television, but felt by viewers at home. After all, Red was able to break up the marriage of Sharon and Nick in the mid-2000s, something that was unheard of at the time, and the biggest reason behind this was the chemistry between these two.
2. Nick and Sharon
While Phyllis did break Shick up, Nick still had wondering eyes for his first love, something that has never truly gone away. Although there have been times over the years that Nick and Sharon have turned into mortal enemies, they always wind back up as friends, then lovers, then enemies again – and the cycle continues. Why? Because they love each other deep down inside and still have a spark that is hard to put out.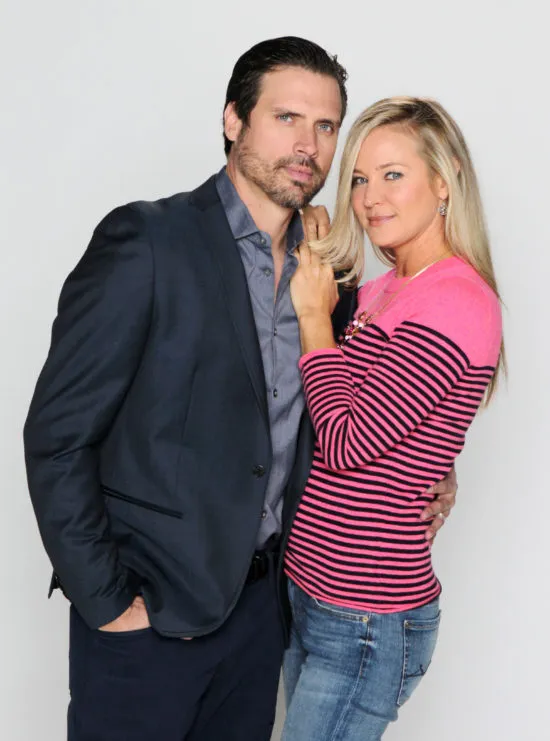 1. Victor and Nikki
Nikki and Victor may be grandparents, but they still know how to turn up the heat! The super couple has had plenty of ups and downs over the years, and despite affairs, betrayals, and so much more, they always end up back in each other's arms. It's a chemistry they have shared for decades now, which is sure to last for many more years.