Days Of Our Lives Plotline Predictions For The Next Two Weeks (July 27 – August 7, 2020)
Published on July 28, 2020.
Summer is at the half-way point in the land of Salem, as things continue to heat up in the little town! Will Ciara ever find Ben? Who's behind the explosion at their wedding? Will Sami's secret be revealed? Who will adopt Allie's baby? It's hard for fans not to speculate! As such, below are some Days of Our Lives (DOOL) plotline predictions for July 27 to August 7, 2020.
Want soap spoilers delivered to your inbox every week? Sign up for Fame10's weekly soap opera spoilers newsletter.
13. The Truth Will Rock A Family
DOOL spoilers reveal that Lucas will catch wind around Sami heavily influencing Rafe to decline Allie's adoption offer. Somehow, Nicole will learn this too and pass the information on to Allie. Both Lucas and Allie will be infuriated by Sami's actions, and this entire thing will end up blowing up in Sami's face, pushing her further away from her daughter.
12. Will Allie Renege Her Offer?
Rewinding a bit, before the truth comes out about Sami and how she influenced Rafe to decline the adoption offer, Allie will reach out to WilSon with some good news. As Rafe politely backed out of adopting her baby, she'll turn to brother Will, and both he and Sonny will be over the moon about it all. So much so, they'll tell Ari about a new possible baby brother or sister coming home soon. But, once Allie finds out that Rafe wanted to adopt the baby, but Sami convinced him not to, will she renege her adoption offer to WilSon? Will she try and persuade Rafe to reconsider?
11. Lines Are Drawn
If Allie reneges her adoption offer to WilSon, the couple will undeniably be quite upset. Not only did she get them excited, but now Arianna is expecting a baby brother or sister that will never come to be. DOOL spoilers indicate that Allie and Lucas will be mad about Sami's recent scheme, and while Will won't be too pleased with what his mom has done, he may be upset at Allie for taking back her offer. This will cause a major line in the sand and pit Allie and Lucas against Sami and Will.
10. Allie Decides To Keep The Baby
Then again, Allie may decide to keep the baby and with the help of her dad, raise the child on her own. This may infuriate Will and Sonny; after all, she did promise them the child. She may also state she wants her mom to have nothing to do with her baby, which will upset Sami, especially if Nicole plays a huge part in the child's life. Walker may even agree to allow Allie and the baby to stay with her, Eric, and Holly, which will send Sami over the top.
9. Sami Declares War On Nicole
Nicole and Sami have never been besties; however, this summer they sure have re-ignited their hate-on for each other. If Nicole and Eric decide to help Allie out with the baby by having her stay at their place, this could cause Sami to declare an all-out war on Nicole, especially if Allie forbids Sami from seeing her grandchild.
8. Eric's Caught In The Middle
Now that Nicole is officially Eric's wife, if Sami and Nicole continue this friction, Eric will be caught in the middle. Nicole is the love of his life; however, the twin bond he has with Sami is unique and special in its own right. He has a soft spot in his heart for Sami, and this will cause some major issues between him and Nicole moving forward.
7. Chloe's Return
While DOOL spoilers haven't offered up an official return date for actress Nadia Bjorlin, it was announced back in early March that she would be reprising her Chloe Lane role on DOOL, and her anticipated airdate was early fall. With that said, Days teasers reveal that Chloe will have some information on Ben's captors the week of August 3rd. This could be in the form of an email or telephone call; however, there is a good chance that Lane makes an appearance onscreen that week.
6. Chloe's Link To Ben
What could Chloe's link to Ben be? Could she be involved in his kidnapping? Anything is possible in the land of Salem! With that said, Eve Donovan (played by actress Kassie DePaiva) is also set to return to DOOL this summer and has more of a beef with Ben than Chloe, so all arrows could be pointing in Eve's direction. The last time fans heard about Lane, she was heading to New York for a singing gig … could she and Eve have run into each other there? Is that the information Chloe has to help the police (and Ciara) with their investigation?
5. Could Philip Be Behind It All
Another person set for a major return this summer is Philip Kiriakis, with actor Jay Kenneth Johnson reprising the role. Kiriakis has a link to Chloe, and he could be behind Ben's kidnapping; however, DOOL spoilers indicate that Ben's captor (plus plan) will be revealed this week while Philip's return date is set for some time in mid-August. Perhaps it is revealed that Philip is behind all the mess to stop the Cin wedding, but his face is not revealed. Philip is related to Ciara; she's his niece. The motivation to keep her away from a "criminal" could be there.
4. Framing Claire
But why would Philip want to frame Claire (as everyone will first think it's her behind this all)? Maybe he's still bitter about losing Belle to Shawn? Maybe he still holds some animosity that Claire was supposed to be his child, and then ended up not being his child? Regardless, Philip just maybe the person behind Cin's wedding disaster, and certainly has the money and power to pull something like this off.
3. Elani's Baby News
Days spoilers hint some news is set to be revealed around Lani's condition during the week of August 3rd. She and Eli are expecting, so what could be revealed about the baby? Could she be expecting twins? There's also a possibility that tests or ultrasounds might show potential around sickness or disability. Here's hoping that it is good news. This couple deserves just that.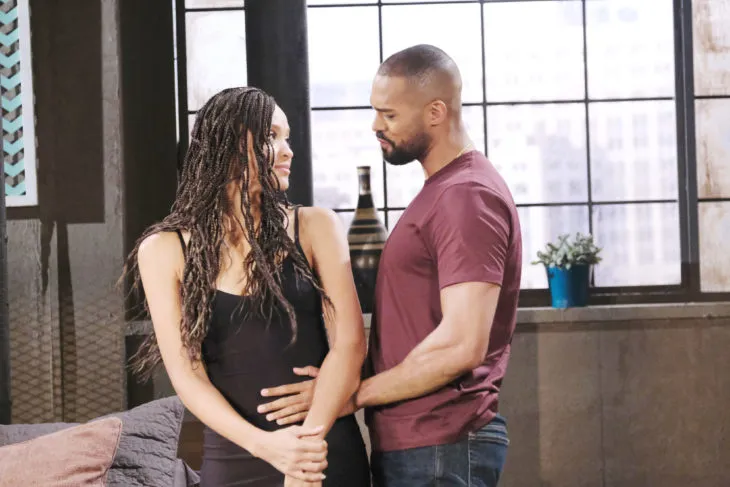 2. Tension Rise Between Jake & Gabi
DOOL spoilers state that Gwen and Jake will be moving into the DiMera mansion this coming week, where Gabi and Chad won't be overly pleased about the entire situation. Jake clearly has chemistry with Gabi, so could living with Gwen cause more awkward tension, pulling him closer to Gabi? Even though he is not Stefan, there's something major going on between Jake and Gabi.
1. Chad & Gwen Too Close For Comfort
Speaking of awkward tension, with Abigail in Florida getting treatment for her mental health issue, Chad has gotten quite chummy-chummy with Gwen. He'll even ask her to spy on Gabi the week of August 3rd. With that said, are these two getting way too close for comfort, considering he is a married man?