Romance is the domain of women – or so we're led to believe. The truth is that the romantic movie genre is widely diverse and not just the realm of "chick flicks".  While there is still an overwhelming amount of unimaginative schlock in the genre, that statement is true of other kinds of movies as well, not just romances. There are many films in the romance genre that can appeal to many viewers. The following films all rely on good storytelling and filmmaking, rather than just being run of the mill romantic fare. These are romantic movies everyone will like.
15. 50 First Dates
Really any Adam Sandler rom-com could end up on this list, but 50 First Dates is one that really does seem to appeal to everyone. Sandler stars in the film opposite Drew Barrymore in the 2004 film in which he falls for Barrymore as Lucy, a young woman with short-term memory loss who lives the same day over and over again. Although the film still has quite a few stereotypical rom-com tropes but the humor and the chemistry between Sandler and Barrymore is what makes this film stand out.
14. Long Shot
There are few romantic duos more unexpected than Charlize Theron and Seth Rogen, but they came together for 2019's Long Shot. The best part of the film is just how unexpected the two are together, which is basically what the film is based on. Charlize Theron is the gorgeous, smart and sophisticated Charlotte Field who is running as a potential presidential candidate while Rogen is Fred Flarsky a down-on-his luck journalist who accepts a job from Field. Although their budding romance is at the center of the film, what makes the movie fun for everyone is of course the humor and more surprisingly the action and adventure! There is little doubt that those who don't normally enjoy romantic films will be pleasantly surprised by Long Shot.
13. Easy A
For audiences who aren't usual fans of romantic films or teen films than Easy A might be a hard sell, but the rom-com isn't like the others. The basis of Easy A might be about Olive's fake love life but it all leads up to her real connection with classmate Todd. The best part about the whole thing is Emma Stone's performance. She is the kind of actress who pulls you into the role no matter what it is, even a teen rom-com.
12. Fever Pitch
The best way to get a larger audience for a romantic movie is to combine it with another major interest — which is what worked for incorporating sports and romance with 2005's Fever Pitch. Perhaps the biggest bonus to the film is that it stars comedian Jimmy Fallon and beloved actress Drew Barrymore, who are a draw for audiences no matter the subject matter. Fever Pitch is smart, funny, and relatable to those who love sports more than they love romance.
11. Isn't It Romantic
The best way to interest those who tend not to like romance films is by making fun of the genre entirely! 2019's Isn't It Romantic is a satire that directly pokes fun at all of the tropes that play out in romantic comedies — and does it in such a way that will have audiences laughing out loud. While Rebel Wilson is of course the star of the show, most were pleasantly surprised by Liam Hemsworth's comedic abilities as her love interest Blake. If you need a break from all of the other rom-coms out there, Isn't It Romantic is the perfect lighthearted film to watch.
10. Pride and Prejudice
This entry may be a bit of a stretch but if there's any version of Jane Austen's famous love story that a guy would be likely to watch, it's this one. The 2005 adaptation, directed by Joe Wright, is not overly long (clocking in at just over 2 hours), it has a diverse and talented cast, and has no shortage of pretty women in period-piece attire (it's hard to say no to Keira Knightly in tight dresses). It's also a visual stunner, which is sure to please any male film buffs that may be watching. Pride and Prejudice may look like a snooze-fest to many men, and there will inevitably be some who just can't tolerate it, but if any period romantic drama has a hope of breaking down a man's defences to old-fashioned love stories, it's this one.
9. Drinking Buddies
Drinking Buddies is something of an anti-romance film, which makes it the perfect film for the generally more cynically-minded male viewer. Jake Johnson, Olivia Wilde, Anna Kendrick, and Ron Livingston make up the stellar ensemble cast, starring as two sets of couples who bond over drinking and are tempted by one another's spouses. Johnson and Wilde take the lead here, as 2 co-workers who come seriously close to compromising their relationships for each other. The film as a whole focuses on the temptation that everyone feels in a committed relationship for other people they're attracted to. Drinking Buddies is not a very "romantic" romance movie, but it arguably appeals to men and women equally (although it's probably not a good choice for couples whose relationship is on the rocks already).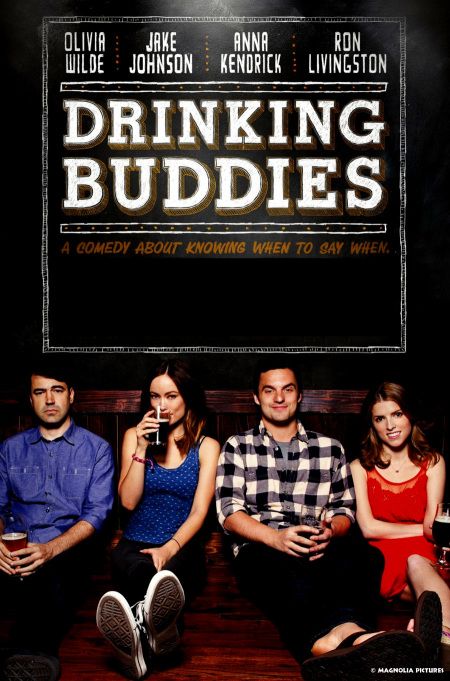 8. Lost in Translation
A tale of unspoken love between 2 strangers from different generations and walks of life who meet and bond while traveling abroad in Tokyo, Japan, Lost in Translation is a different spin on the romance genre that speaks to the need for human connection in our lives. Bill Murray and a young Scarlett Johansson star in this film by Sofia Coppola. Men will like this movie because of its honesty and lack of schmaltzy content. Murray and Johansson's characters do not fall in love or engage in a fleeting romance in the traditional sense; their relationship is more of a father-daughter one, which makes this film a refreshing entry in the romance genre. In addition, Johansson spends a good portion of her screen time in her underwear, which is sure to attract the gaze and attention of most guys.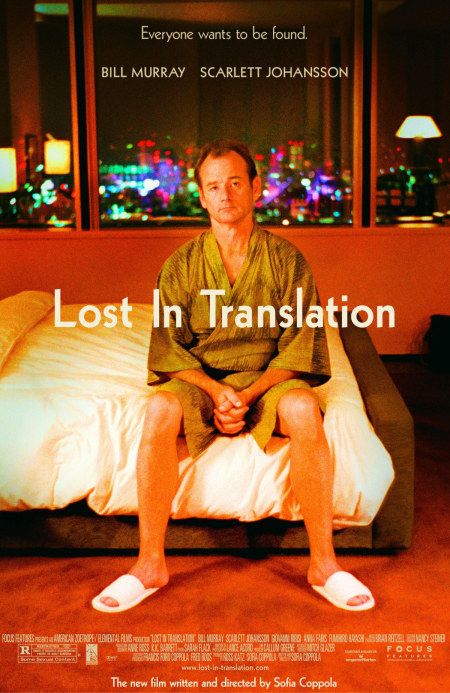 7. Knocked Up
It's a bit tough to classify Knocked Up as a romantic movie considering the film's premise is about a slacker who impregnates a career-driven woman after a one night stand. However, underneath the expected level of Judd Apatow-style raunchiness (he wrote and directed the film), Knocked Up actually has a sweetness at its core. Seth Rogen displays his trademark slacker charm in the lead role, reflecting a sizable portion of today's underachieving man-child generation, while the usually annoying Katherine Heigl turns in arguably her best performance as the reluctant mother of Rogen's child. Knocked Up could have come off as inauthentic due to its premise of forcing two very different people to come together over a common life challenge, but by the end of the movie, there is legitimate chemistry between Rogen and Heigl, making this a romance movie at heart.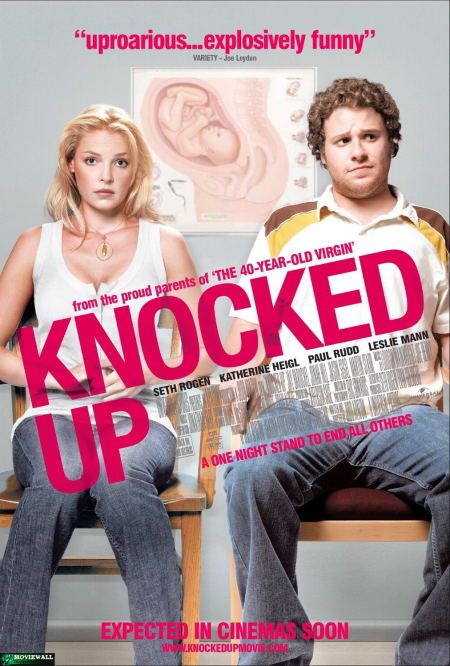 6. The Five Year Engagement
A film made for both men and women, The Five Year Engagement focuses on what it takes to sustain a relationship through life's various challenges. Jason Segel and Emily Blunt star as a young engaged couple who decide to postpone their nuptials after Blunt's character lands a lucrative graduate position, forcing the couple to move across the country. Segel and Blunt have good chemistry, the supporting cast is excellent (Chris Pratt and Alison Brie stand out as the wacky, dysfunctional friends), and the script strikes a good balance between portraying the ups and downs of their characters' relationship. The Five Year Engagement is probably not a good film to watch for couples that are having serious issues, but for any men and women that value longevity and commitment, this film is a good choice for reinforcing those values.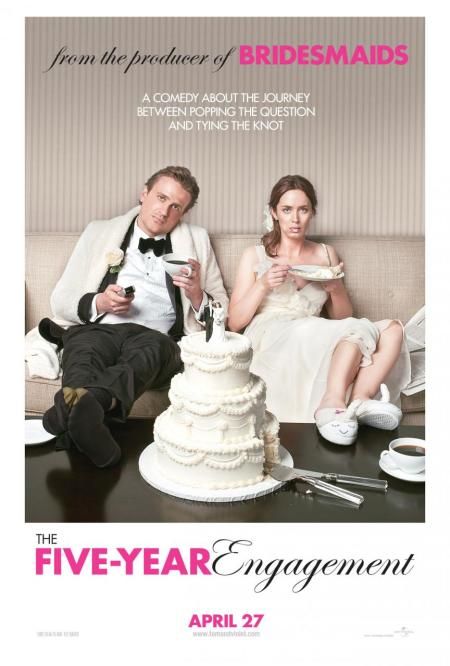 5. Forgetting Sarah Marshall
Another entry in the Judd Apatow production house, Forgetting Sarah Marshall features the same creative team as The Five Year Engagement, as both films are written by Jason Segel and directed by his frequent collaborator, Nicholas Stoller. Here, Segel stars as a musician who gets brutally dumped by his actress girlfriend Sarah Marshall (Kristen Bell) and takes a trip to Hawaii to get over her…until he realizes that she's staying at the same resort with her new boyfriend. Fortunately, Segel's character sparks a sweet romance with a hostess at the hotel (Mila Kunis), leading to frequently hilarious and awkward situations between all the characters. In fact, this is probably a "romantic" movie that guys will have to convince their significant others to watch instead of the other way around, due to the raunchy style of the film's humor.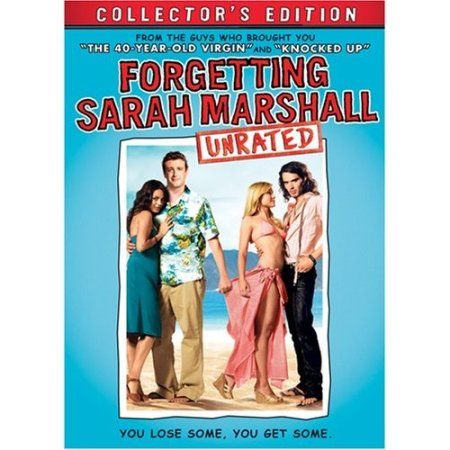 4. Atonement
A story of falsehoods and regret set before, during, and after the Second World War, Atonement is a classic romance with just enough war drama and tragedy to pique the interest of male viewers. James McAvoy and Keira Knightley star as two long-time friends of different classes who act upon their unspoken affections one fateful summer evening that ends in tragedy for the pair. Directed by Joe Wright (who also directed Pride and Prejudice) and based on the award winning novel by Ian McEwan, Atonement is one of the most tragic romance stories in recent memory and contains one of the most incredible war scenes ever captured on film (the beaches of Dunkirk during the British evacuation) that is sure to engage male viewers. The film's final twist is also sure to not leave a dry eye in the audience, whether they are male or female.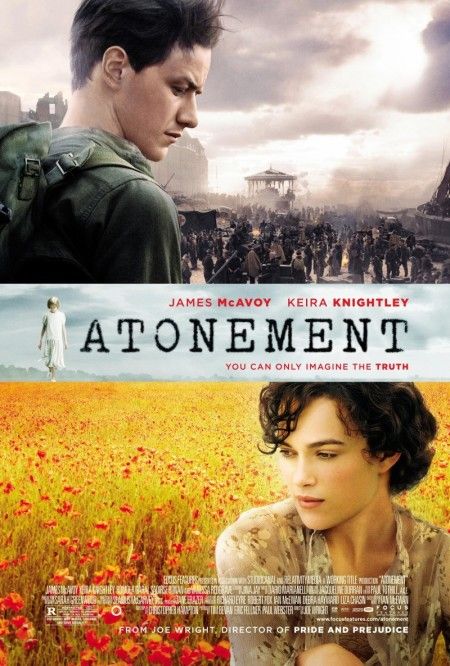 3. Casablanca
A romantic classic in every sense, Casablanca is first and foremost a great film, meaning it should appeal to almost any fan of cinema, male or female. Men in particular will enjoy the portrayal of Ex-Pat bar owner Rick Blaine played by Humphrey Bogart, who is arguably the most masculine actor of all time with his dapper suits and husky voice. Set in Casablanca, Morocco during Nazi occupation, Casablanca sees Rick reunited with a lover from his past, the French Ilsa Lund (played by the beautiful Ingrid Bergman). The two reignite their affair despite the presence of Ilsa's husband, a famous freedom fighter. Casablanca is a classic tale of forbidden love that contains enough wartime intrigue and displays of masculinity to keep male viewers interested and committed.
2. Scott Pilgrim vs. the World
Scott Pilgrim vs. the World is not a romantic movie in the traditional sense but its modern sensibilities are exactly what make it an appealing romance movie for guys. It's pretty much a romantic movie made for guys, as it follows its protagonist's attempts to win the heart of his new girlfriend by defeating her seven evil exes in battle. Granted, the romance between Michael Cera and Mary Elizabeth Winstead is not given as much time as needed, given the amount of screen time that is rightfully devoted to other aspects of the film's story, but there's still enough here to qualify Scott Pilgrim as a romance. It's romance as made for the slacker generation, which makes the laidback attitude toward the central couple understandable.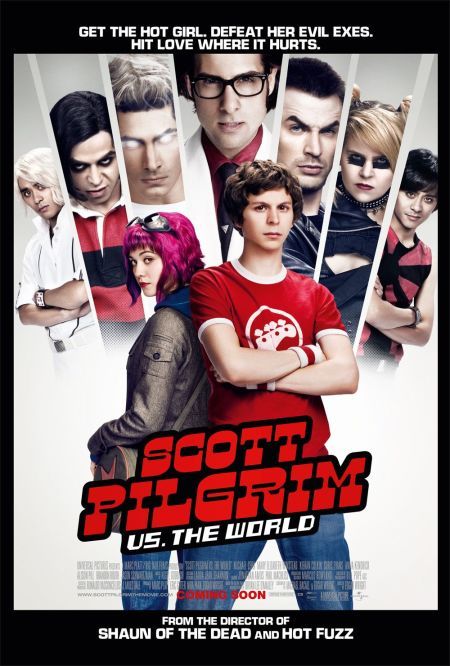 1. The Princess Bride
A cult classic, The Princess Bride is a perfect compromise film, as it has enough content for male and female audiences alike. Women will enjoy the central love story between Westly (Cary Elwes) and Princess Buttercup (Robin Wright), while guys will enjoy the swashbuckling heroics of characters like Inigo Montoya (Mandy Patinkin) – actually, men and women will both love Montoya and his quest for revenge. Equal parts romance and comedy set in a fictional medieval-style world, The Princess Bride is so much more than its title implies. It's not a chick flick by any stretch of the imagination; in fact, if there's a guy who dislikes it after watching it, their significant other should really consider throwing him to the curb because The Princess Bride is the perfect date movie and the #1 romantic movie even guys will like.