After a completely disrupted 2020 awards season, 2021 is plunging ahead and this year stars returned to the red carpet for the 2021 Grammy Awards. The biggest names in music donned some very head-turning styles making it one of the most stylish Grammy Awards ever, but not all the looks were hits. Check out the red carpet fashion hits and misses from the 2021 Grammy Awards:
Miss: Debi Nova
Debi Nova is stunning but unfortunately her look wasn't one of the best of the night. The star took to the red carpet in a Georges Chakra pink gown featuring a major high-low hemline. While the strapless piece could have been stunning on its own, it was the massive train that took the look from a hit to a miss.
Hit: Lizzo
One of the best things about this year's awards shows so far are the beautiful spring colors and pastels that the stars are rocking and Lizzo was definitely one of the them. The 'Truth Hurts" singer donned a Balmain mint minidress with just enough ruching and ruffles to make it stand out without making it tacky. She added some truly stunning Bvlgari diamonds to complete the shimmery look.
Miss: Billie Eilish
There is no denying that Billie Eilish's look was most definitely on brand for her, but it just wasn't one of the best of the night. The singer donned a head-to-toe custom Gucci suit complete with a hat, fingerless gloves and mask! There was just too much going on with the tiger and floral design, but it made no difference to her two huge Grammy wins for Record of the Year and Best Song Written for Visual Media.
Hit: Mickey Guyton
Some are not loving Mickey Guyton's floral frock, but we are definitely fans! The country singer took the spring fashion to another level with her sheer overlay featuring shimmering butterfly and floral appliques. She let the overlay steal the show by donning a simple tan spaghetti-strap dress underneath. We think it is the perfect balance of romantic and ready-to-party at the Grammys!
Miss: Harry Styles
Harry Styles' leather and boa look for his Grammys performance was definitely a win, but the same can't be said for his red carpet fashion. The singer opted for a Clueless meets That '70s Show look with his head-to-toe Gucci complete with a purple feather boa. Unfortunately the fashion-forward look was just confusing and mismatched. He did however take home the win for Best Pop Solo Performance so while his red carpet look was a miss, he ended the night as a winner!
Hit: Miranda Lambert
Country superstar Miranda Lambert knows what look works for her and she always keeps it coming on the red carpet. Compared to some of the other fashion statements of the night, Lambert's style was a little more simple but definitely flattering. The singer wore a sleeveless Genny gown with a unique square shaped plunging neckline and a thigh-high slit. The entire outfit was shimmering with a silver and black print and she expertly added a pop of those spring colors with a teal clutch.
Miss: Phoebe Bridgers
It seems like Phoebe Bridgers is ready for Halloween just a little too early! The star walked the red carpet in a Thom Browne design with an elaborate skeleton embellishment down the front. While some are calling it good branding for the singer, it just didn't seem right at an awards show red carpet.
Hit: Maren Morris
Maren Morris knows how to make less pop on the red carpet and she did it again with her beautiful lavender Dolce & Gabbana gown. The country star's look included a plunging neckline with crystal embellishments and just enough of a train to make it red carpet perfect and not over-the-top.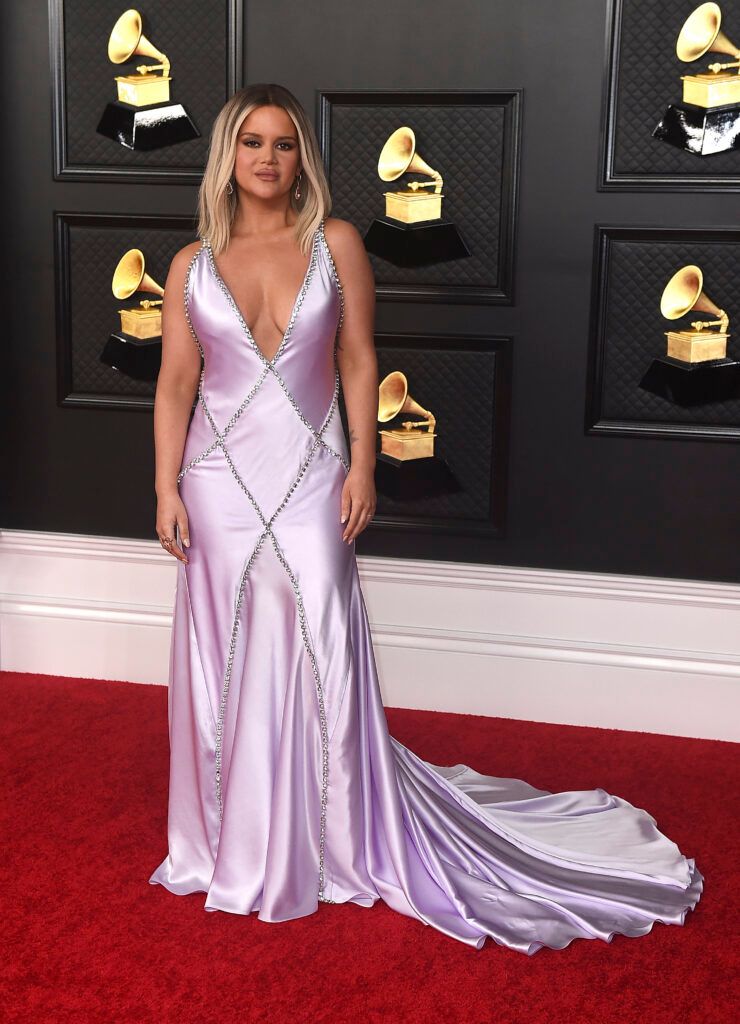 (Jordan Strauss/Invision/AP)
Miss: Noah Cyrus
Noah Cyus certainly set out to make a statement with her 2021 Grammy Awards look, we just aren't sure what that statement is. The singer wore a very elaborate Schiaparelli gown with a truly insane shoulder and back cape-piece. While the piece definitely got her noticed, it looked like something that should have been left on a high fashion runway and not make its way to the red carpet.
Hit: Megan Thee Stallion
Megan Thee Stallion was a big winner of the night both on and off the red carpet. While she won a Grammy for Best New Artist and Best Rap Song, she also served up one of the best looks of the night. The rapper donned a classic Hollywood glam Dolce & Gabbana gown but made it extra eye-catching with a vibrant orange color and thigh-high slit. The gown also featured a dramatic bow detail on the back and the whole look was capped off with dazzling Chopard diamonds.
Miss: Julia Michaels
Julia Michaels usually knows her red carpet fashion, but this year's Grammys look was a miss for the singer. Michaels chose a black and white Georges Chakra Couture gown that starts off simple enough with a black strapless dress but ends in some confusing 3D pleated floral details down the skirt.
Hit: Dua Lipa
Dua Lipa made jaws drop with her show-stopping red carpet look. The star absolutely rocked her sheer Atelier Versace gown featuring a semi-sheer crystal frock, a large butterfly design and a thigh-high slit. This year's Grammy Awards seemed a little reminiscent of past MTV VMA Awards with the daring looks, and it was nice to see such fresh looks at the show. Dua Lipa kept her reign of the night going with an incredible performance and a big win for Best Vocal Pop Album.
Miss: Doja Cat
Many can't stop talking about Doja Cat's red carpet look at the 2021 Grammy Awards, but not for a good reason. The singer opted for a very bizarre custom Roberto Cavalli creation making it one of the biggest misses of the night. The look featured black and tan leather details, an extreme deep-V front and a lime green feathered skirt.
Hit: Taylor Swift
Taylor Swift's new brand can be described as romantic and whimsical, and that is exactly the look she served up at the Grammys that everyone can't stop talking about. The singer rocked a flower-covered Oscar de la Renta minidress featuring a covering of floral appliques. Many times a look like this would be considered a miss, but Swift managed to make it one of the best looks of the night, and it looked really good with her Grammy for Album of the Year!