11 Celebrities Poised For A Career Comeback In 2018
Published on December 4, 2017. Updated May 2, 2019
2017 was a very intense year in Hollywood. Some stars and powerful figures sank to lows that nobody expected following major scandals, while others took a break from the spotlight for their own reasons. Looking ahead, however, 2018 is already gearing up to be a big year for many stars as they plan their comeback with new albums or highly anticipated movies or TV shows. Here are 11 celebrities who are poised for a career comeback in 2018:
11. Spice Girls
It seems like for ages now the Spice Girls have been teasing fans about a reunion, but it seems impossible for the five to get together. The last time the beloved girl group actually performed together was at the 2012 Summer Olympics closing ceremony, giving all fans hope of a permanent reunion. In late 2017 rumors once again began swirling that Emma Bunton, Geri Halliwell, Victoria Beckham, Melanie Chisholm and Melanie Brown were going to reuniting for a 2018 tour, gearing them up for a huge Spice Girls comeback. Unfortunately, hopes are already being dashed with reports that Victoria Beckham has refused to participate in the reunion, but fans should keep their fingers crossed for a Spice Girls comeback in 2018.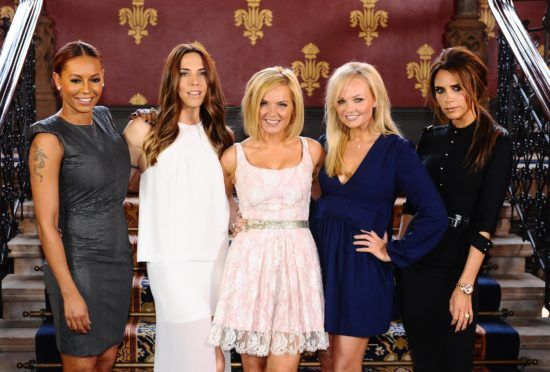 10. Jennifer Aniston
In all fairness, Jennifer Aniston has never really gone anywhere in order to necessitate a comeback, but there is no denying the beloved A-lister had a very quiet 2017. Aniston only had one acting credit in 2017 with the war drama The Yellow Birds which did not have a wide theatrical release and was only presented during the 2017 Sundance Film Festival. Aside from the relatively unknown role, Aniston laid low but that is all set to change in 2018. With one movie in post-production that is set to be released in 2018, what fans are most excited about is her upcoming TV project along with Reese Witherspoon. Aniston and Witherspoon will not only be starring in the series but will also be serving as executive producers. Although the new TV drama does not have an exact release date, it has already been giving a two-season order from Apple and season one will premiere in 2018. It not only marks a comeback for Aniston after a slow year in 2017 but will also mark her big TV comeback in her first TV role since Friends wrapped back in 2004.
9. Eminem
It has been quite some time since Eminem has been in the spotlight, although for quite awhile he was one of the most buzzed about celebrities in the industry. After so much time with the focus on him, Eminem essentially disappeared for quite awhile, but it seems he is finally ready to come out of hiding. In late 2017, he appeared at the 2017 BET Hip Hop Awards where he criticized President Trump in a rap and caught everyone's attention. While there is no set release date from his upcoming album called "Revival," it is clear Eminem will be back in 2018, and perhaps along with new music, he will once again embark on a tour.
8. Arie Luyendyk Jr.
Arie who? That was the collective remark reality TV fans made when it was revealed that Arie Luyendyk Jr. had been named The Bachelor for the show's twenty-second season which is set to begin airing in early January 2018. Thanks to the leading role as The Bachelor, there is no doubt that Arie Luyendyk Jr. is set for a huge comeback in 2018 after falling completely after the radar following his stint as season eight of The Bachelorette where he placed first runner-up.
7. Angelina Jolie
The past couple of years have not been Angelina Jolie's best, especially personally, and it is about time she reemerged atop Hollywood's A-list with a big comeback! Following her shocking and extremely public split from Brad Pitt after 12 years together, most of the focus on Jolie has been about her personal life. While 2017 saw the release of First They Killed My Father, the film was plagued by child abuse rumors, and it just seems like nothing could go smoothly for the actress. 2018 will be a great time for Jolie to reset, and with two films already in the works including her reprisal of Maleficent in Disney's Maleficent 2, fans should be prepared for a comeback from the star.
6. Trading Spaces Cast
TLC has had a lot of success with many of its reality series, but in 2018 fans are most excited about the comeback of one of the network's earliest biggest hits: Trading Spaces. Not only is the beloved home design series making a comeback but so is most of the cast that fans loved so much. Beloved host Paige Davis will be returning alongside designers such as Doug Wilson, Genevieve Gorder, Hildi Santo-Tomas, Vern Yip, Frank Bielec and Laurie Smith as well as carpenters Ty Pennington, Amy Wynn Pastor and Carter Oosterhouse. 2018 is going to be a good year for Trading Spaces fans!
5. Amber Heard
Amber Heard's star skyrocketed and in a way plummeted in a record amount of time in Hollywood, but after a rough year and a half or so, the actress is poised to be back better than ever in 2018. After roles in movies such as Paranoia and Magic Mike XXL, it didn't take long for Heard to instead become known just as Johnny Depp's wife and soon after was only discussed because of their public and very nasty divorce. Late 2017 has seen Heard opening up more than ever about her personal life and career in high-profile interviews, and after making her brief appearance in 2017's Justice League as Mera, she will be headlining DC Comic's standalone Aquaman film in 2018 alongside Jason Momoa who is in the title role.
4. Avril Lavigne
Avril Lavigne's health battles have sidelined the singer for quite some time now, but it seems she has fought her way back and is ready for a comeback! In 2015, Lavigne revealed that her whole life had been changed when she was diagnosed with Lyme disease, and after a long recovery, she was able to start focusing on music again. Although she hoped to have her sixth studio album released by the end of 2017, it is now slated for sometime in 2018 and fans of the songstress are hoping that if she is healthy enough, she will be able to deliver a few concerts as well.
3. Brendan Fraser
In the '90s and early 2000's, Brendan Fraser was one of the biggest and most beloved stars out there. After starring in films such as Blast from the Past, The Mummy, George of the Jungle and Bedazzled, he rapidly fell off the radar. Although he has continued acting, his lack of major roles and his absence from the spotlight has become a hot topic in Hollywood, but after joining the cast of The Affair in a small role from 2016-2017, it looks like fans will be seeing more of Fraser in 2018. Fraser has signed on to star alongside Donald Sutherland and Hilary Swank in FX's most anticipated new series, Trust, which is set to begin airing in January 2018.
2. Cast of Roseanne
Roseanne was one of the most popular series on TV during its nine-season run from 1988 to 1997, and more than 20 years after it came to an end, the cast is gearing up for one of the biggest TV comebacks yet. Season 10 of the show will begin airing in the spring of 2018 and will reunite the beloved cast from the original series including Roseanne Barr, John Goodman, Laurie Metcalf, Sara Gilbert and Michael Fishman. While many of the stars went on into other notable roles, for others it will mark a huge comeback into the spotlight of the TV industry.
1. Patrick Dempsey
Following his dramatic and shocking exit from Grey's Anatomy after 10 years in the role of Dr. Derek Shepherd, Patrick Dempsey took a big step back. While he went on to star in Bridget Jones's Baby in 2016, 2017 was a really quiet year for the star as he took time to focus on his family and himself, but after a year it seems he is ready to make his comeback. Three years after his Grey's denature, Dempsey will be returning to TV in the mini-series The Truth About the Harry Quebert Affair as the lead, Harry Quebert.