SAG Awards: Disappointing Fashion Moments Ranked
Published on January 18, 2018. Updated January 17, 2020
The Screen Actors Guild Awards may not be the most anticipated awards show of the year, but the red carpet is undeniably one you can't miss! Often the red carpet is more of a highlight than the actual awards show, especially when there is a few fashion misses that we can't take our eyes off. Sometimes, Hollywood's most fashionable leading ladies let us down with some surprising fashion misses, and it seems that the SAGs are no different! Follow along as we recall 15 of the most disappointing SAG awards red carpet dresses of all time:
15. Kaley Cuoco — 2016
Kaley Cuoco definitely fell short of our expectations at the 2016 SAG awards! This blonde bombshell wore a relatively simple one-shoulder Ramona Keveza number, but the cutouts along the side seemed strangely placed and overexposing. The gown showed off nearly all of Cuoco's side ribs which definitely came across unbalanced in combination with the thigh-high slit. Her choice of hairstyle also added to our disappointment with the topknot looking quite lopsided and messy.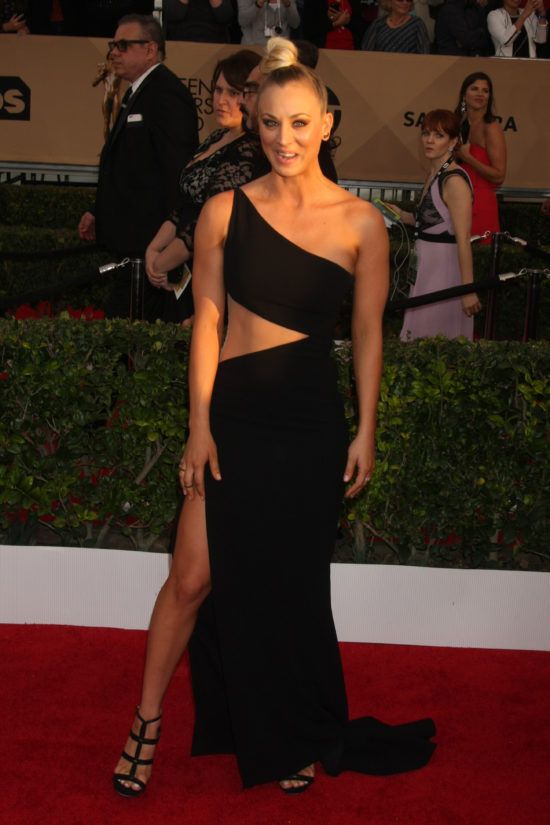 14. Eva Longoria — 2009
Eva Longoria is an absolute natural beauty, which made this 2009 red carpet moment all the more disappointing! The shade of orange came across as slightly tacky and definitely did not contrast well with the red carpet. The gown featured an awkward ruffle across the hip and cheap-looking beading along the neck. We would have much preferred to see Longoria in something a little more glamorous and glitzy!
13. Kristen Wiig — 2016
Instead of wearing a classic gown like many stars do, Kristen Wiig opted for a crisp jumpsuit at the 2016 SAG awards! Although we totally appreciate this fashion risk, we're not sure this look was completely satisfying. The one-shoulder top featured a strange geometric, floral embellishment that resembled a honeycomb a little too closely. We love seeing women who break the fashion mold at these award shows, but the odd embellishment of this look simply can't be overlooked.
12. Jane Lynch — 2011
Jane Lynch looked lovely in lilac at the 2011 SAG awards, but the one thing we couldn't overlook was just how much her dress resembled something an 18-year old girl would wear to prom! As much as we appreciate the girliness and the glam of this soft purple number, it's just too difficult to look past the slightly juvenile, foofy feel of this princess-inspired look.
11. Angie Harmon — 2011
There is undeniably a tasteful and classy way to wear feathers, we're just not totally convinced that Angie Harmon has mastered it with this Monique Lhuillier strapless gown! This soft pink look was definitely a lovely color on the tanned star, but the lingerie-inspired corset bodice was quite awkward looking in combination with the feathers. We would have much preferred to see subtle feather detailing along the skirt or bust rather than a full-blown feathered gown from head to toe.
10. Sarah Paulson — 2014
We can definitely appreciate Sarah Paulson for taking a style risk or two, but unfortunately, this look from the 2014 SAG awards wasn't one of her best! The 2014 Rochas dress featured a ruffled neckline in combination with a tiered skirt which poofed at the hip for extra volume. The biggest downfall of this look was the length of the skirt, which cut her off at the ankles and made her appear shorter! Proportions play a huge factor in a winning red carpet look, and it's clear the proportions were not the most flattering with this particular look.
9. Claire Danes — 2011
Claire Danes is a blonde bombshell and could seemingly do no wrong on the red carpet, but the dress she wore to the 2011 SAG awards definitely left us quite disappointed. Many fashion critics were conflicted over this look, but one thing many agreed upon is the fact that this floral number would have been much more elegant and classy without the chunky buckled belt, and we completely agree!
8. Christina Hendricks — 2016
Christina Hendricks definitely took us by surprise with this golden jacquard Christian Siriano dress. The texture seemed to fold and wrinkle in awkward places around her body and looked quite cheap for a designer garment. The billowing cape detailing that stretched from one shoulder into a bow across her back made this look come across even more strange! Luckily, the soft gold color flattered Christina's strawberry locks perfectly, but the cut and texture still left us feeling quite disappointed.
7. America Ferrera — 2009
America Ferrera's 2009 SAG awards dress was unfortunately not one of her finest fashion moments! The brunette beauty stepped out wearing a tan chiffon gown that featured a sheer black sash and unflattering draping on the sides. The color of this gown seemed to wash out the star's complexion and the shape simply drowned her rather than nicely framing her figure.
6. Toni Collette — 2010
Toni Collette's 2010 SAG awards look most definitely didn't leave too many positive reviews following the event! The gown drowned her figure in ruffles and we would have much preferred to see her in a figure-slimming shape than this baby-doll style cut. The sequins and blue beading clashed with the pale pink skirt and even more so with the full set of ruffles.
5. Meryl Streep — 2014
Based on her track record, Meryl Streep could seemingly do no wrong when it comes to the red carpet! Streep is typically the queen of the little black dress, but this particular black gown definitely left us feeling quite underwhelmed. The Stella McCartney number cinched at the waist and featured an off the shoulder neckline, but the gown just didn't seem to flatter her in the right places! Dare we say this look seemed somewhat frumpy on the ever-elegant Meryl Streep? Thankfully her dark-rimmed glasses and soft makeup definitely balanced out the unfortunate choice of attire.
4. Keira Knightley — 2015
Pregnant Keira Knightley stepped out in 2015 wearing an overly foofy lace gown at the SAG Awards red carpet! We totally understand that dressing a baby bump comes with its challenges, but this ruffled look completely drowned Knightley. The royal purple lace seemed an odd combo and was neither dainty nor flattering. Luckily, the star smiled ear to ear and her pregnancy glow was highly apparent, which definitely balanced out the awkwardness of her tiered gown.
3. Nicole Kidman — 2016
Nicole Kidman undeniably turned heads at the 2016 SAG awards, but we're not sure it was for the right reasons! Her look was definitely vibrant, but it simply seemed to be a little too chaotic. The dress featured a combo of heavy ruffles, contrasting stripes, and glitter throughout. Rather than having three different forms of embellishment, we wish Kidman would have opted for one or two to minimize the dramatic look a little.
2. Julianne Moore — 2016
This strange shade of pale green would typically not work on most skin tones, but Julianne Moore's dark red locks seemed to contrast well with the unique shade! Despite this, however, the texture and cut of this dress still landed this fashion moment as one of the all-time worst SAG awards looks. The straight-cut neckline seemed to awkwardly cut her, especially in combination with the cutouts along her ribcage. To make matters worse, the shiny texture of the dress looked tacky and cheap.
1. Sandra Oh — 2008
In 2008, Sandra Oh made a rare red carpet appearance where she stepped out wearing a bold hot pink gown. A look like this seems more suited for prom than a formal Hollywood red carpet, and to be quite honest, we're not sure that there is ever a time and place for an oversized pink bow. The proportion of the gown undeniably overwhelmed the petite actress and we would have much preferred to see her in something more sleek, sophisticated and age-appropriate.